Partnering institutions
Research teams of 39 different countries are enrolled in this study. The participating countries include: Austria, Belgium, Bosnia and Herzegovina, Bulgaria, Croatia, Cyprus, Czech Republic, Denmark, Estonia, Finland, France, Germany, Greece, Hungary, Iceland, Ireland, Israel, Italy, Kosovo*, Latvia, Lithuania, Luxembourg, Malta, Moldavia, The Netherlands, North Macedonia, Norway, Poland, Portugal, Romania, Serbia, Slovenia, Spain, Sweden, Switzerland, Turkey, Ukraine, and The United Kingdom.
Currently, PRICOV-19 is also being rolled out in Albania. The data will be processed separately from the other countries due to the different time frame.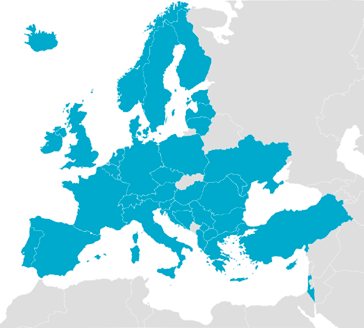 Figure 1: The overview of the participating countries in the PRICOV-19 study. Created with permission from DataWrapper.
* All references to Kosovo, whether the territory, institutions or population, in this project shall be understood in full compliance with United Nation's Security Council Resolution 1244 and without prejudice to the status of Kosovo.

Country
Partnering institution
Albania
Faculty of Medicine, University of Medicine, Tirana
Austria
Medical University of Vienna
Belgium
Ghent University
Catholic University of Louvain
University of Liège
Bosnia and Herzegovina
Medical School University of Tuzla
Bulgaria
Medical University Plovdiv
Croatia
University of Zagreb
Cyprus
University of Nicosia Medical School, International Institute for Compassionate Care
Czech Republic
Charles University
Denmark
University of Copenhagen
Estonia
Estonian Society of Family Doctors
Finland
University of Turku
University of Helsinki
France
Société de Formation Thérapeutique du Généraliste
Germany
GP Institute, University Hospital Erlangen
Greece
University of Ioannina
Hungary
Semmelweis University
Iceland
University of Iceland
Ireland
Irish College of General Practitioners
Israel
Tel Aviv University
Italy
Dr. Ferdinando Petrazzuoli
Kosovo*
Heimerer College
Latvia
Riga Stradins University
Lithuania
Vilnius University
Luxembourg
University of Luxembourg
Malta
Mediterranean Institute of Primary Care
Moldavia
Nicolae Testemitanu State University of Medicine and Pharmacy
The Netherlands
Nivel
North Macedonia
Association of doctors for intersectoral collaboration ADICD
Norway
University of Oslo
Centre for Care Research West Norway
Poland
Jagiellonian University Medical College
Portugal
Universidade Nova de Lisboa
University of Porto
Romania
Spiru Haret University
Serbia
Faculty of Medicine, University of Belgrade
Serbian Association of General Practitioners
Slovenia
University of Ljubljana
Spain
University of Zaragoza
Consorci Castelldefels Agents Salut
Sweden
Örebro University
Linköping University
Switzerland
University of Bern
The United Kingdom
Keele University
Turkey
Erzincan University
Marmara University School of Medicine
Ukraine
Shupyk National Medical Academy of Postgraduate Education