PRICOV-19 study
The COVID-19 pandemic emphasizes the need for worldwide research. Therefor we set up the PRICOV-19 study aiming to assess the impact of the COVID-19 pandemic on the organization of care in primary care practices, the efforts undertaken to ensure access to care for all patients, and the impact on the different dimensions of quality of care. Data are collected by means of an online survey sent to general practices.
The results will inform policy makers on which features of health systems and general practice organization need to be reinforced to prepare primary care systems across Europe against future pandemics. After all, increased attention to patient safety can limit the transmission not only of COVID-19, but also of other infectious diseases.
Organisation
The PRICOV-19 study is carried out by an international network of partner institutes, in close collaboration with the European Association for Quality and Patient Safety in Primary Care (EQuiP), one of the WONCA networks. The study is coordinated by the Department of Public Health and Primary Care from Ghent University (Belgium). In each participating country one or more partner institutions are responsible for the data collection.
Partners
Research teams of 38 different countries are enrolled in this study. The participating countries include: Austria, Belgium, Bosnia and Herzegovina, Bulgaria, Croatia, Cyprus, Czechia, Denmark, Estonia, Finland, France, Germany, Greece, Hungary, Iceland, Ireland, Israel, Italy, Kosovo*, Latvia, Lithuania, Luxembourg, Malta, Moldavia, North Macedonia, Norway, Poland, Portugal, Romania, Serbia, Slovenia, Spain, Sweden, Switzerland, The Netherlands, The United Kingdom, Turkey, and Ukraine.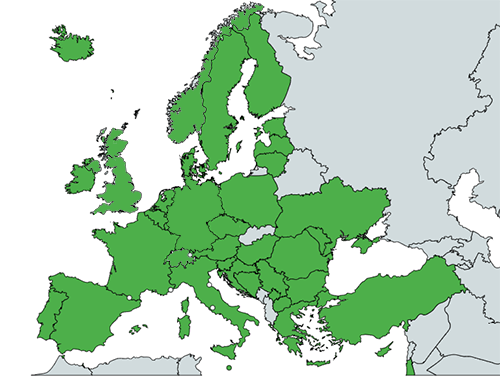 * All references to Kosovo, whether the territory, institutions or population, in this project shall be understood in full compliance with United Nation's Security Council Resolution 1244 and without prejudice to the status of Kosovo.

Country
Partnering institution
Austria
Medical University of Vienna
Belgium
Ghent University
Catholic University of Louvain
University of Liège
Bosnia and Herzegovina
Medical School University of Tuzla
Bulgaria
Medical University Plovdiv
Croatia
University of Zagreb
Cyprus
University of Nicosia Medical School,International Institute for Compassionate Care
Czech Republic
Charles University
Denmark
University of Copenhagen
Estonia
Estonian Society of Family Doctors
Finland
University of Turku
University of Helsinki
France
Société de Formation Thérapeutique du Généraliste
Germany
GP Institute, University Hospital Erlangen
Greece
University of Ioannina
Hungary
Semmelweis University
Iceland
University of Iceland
Ireland
Irish College of General Practitioners
Israel
Tel Aviv University
Italy
Dr. Ferdinando Petrazzuoli
Kosovo*
Heimerer College
Latvia
Riga Stradins University
Lithuania
Vilnius University
Luxembourg
University of Luxembourg
Malta
Mediterranean Institute of Primary Care
Moldavia
Nicolae Testemitanu State University of Medicine and Pharmacy
The Netherlands
Nivel
North Macedonia
Association of doctors for intersectoral collaboration ADICD
Norway
University of Oslo
Centre for Care Research West Norway
Poland
Jagiellonian University Medical College
Portugal
Universidade Nova de Lisboa
University of Porto
Romania
Spiru Haret University
Serbia
Faculty of Medicine, University of Belgrade
Serbian Association of General Practitioners
Slovenia
University of Ljubljana
Spain
University of Zaragoza
Consorci Castelldefels Agents Salut
Sweden
Örebro University
Linköping University
Switzerland
University of Bern
The United Kingdom
Keele University
Turkey
Erzincan University
Marmara University School of Medicine
Ukraine
Shupyk National Medical Academy of Postgraduate Education
Update on the data collection (dd. 02/08/2021)
Data collection has been launched in 37 out of 38 countries.
More than 4500 GP practices completed the survey up till now. Data collection is still ongoing in eight countries.
Data are cleaned and analysed in four batches, depending on when the data collection was finished. The first and second batch of data (including 27 countries) have been cleaned and data analysis is ongoing. It is expected that the data 3 will be cleaned and ready for analysis by the end of August.
Funding
The study has been approved for the EGPRN COVID-19 Grant Funding.
Papers and conferences
The submission of the first paper describing the protocol of the study is expected by the end of August.
The first papers and reports with the results of single countries are expected very soon and will be available on this website.
The first results of the this study will be presented at the following conferences:

Willems, S., Van Poel, E., Vanden Bussche, P., Klemenc-Ketiš, Z., Rochfort, A., and Zwart, D. (2021). COVID-19: threat or opportunity for quality improvement in general practice [workshop]. 26th WONCA Europe Conference, virtual, July 6-10.
More information: https://woncaeurope2021.org/
Willems, S., Vanden Bussche, P., Van Poel, E., Collins, C., Eide, T., Jacobsen, F.F., Schaubroeck, E., Stark, S., and van den Muijsenbergh, M. (2021). COVID-19: threat or opportunity for quality improvement (QI) in general practice [workshop]. EFPC 2021 Conference, virtual, September 5-7.
More information: http://euprimarycare.org/efpc-2021-bergen-conference-5-7-september-2021/
More information
Please contact the Ghent University PRICOV-19 team: